In the ever-evolving world of fashion and self-expression, tattoos remain a powerful means of expressing individuality and style. As we enter the year 2024, men's tattoo trends are more inventive and diverse than ever before. In this article, we take a look at the best men's tattoos of 2024, showcasing unique elements ranging from intricate sleeves to subtle yet colorful designs. We invite you to explore these vibrant canvases that combine tradition and modern aesthetics.
Mystical Eastern-Inspired Sleeve
The allure of the East comes alive in this full-arm sleeve tattoo. A monochromatic palette breathes life into a mystical scene where dragons dance among clouds, and traditional architecture stands proudly under a moonlit sky. It's a unique design that tells tales of folklore and the divine. For the man who carries this art, it's not just a tattoo; it's a bridge to an ancient culture. This piece would pair well with minimalist, structured outfits to let the intricate work stand out.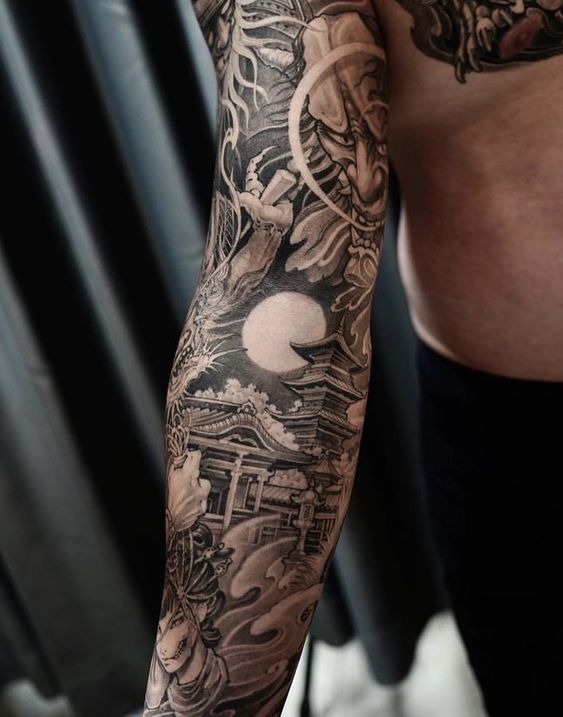 Alpine Serenity Arm Tattoo
Amidst the rugged peaks and serene landscapes, this tattoo captures the essence of a mountain retreat on skin. The detailed linework and shading create an almost tactile texture that can transport you to the great outdoors. It's an arm small tattoo that makes a statement without overwhelming, perfect for the nature lover who wants to keep a piece of the wilderness close. Style this with earth tones and casual wear to complement its natural vibe.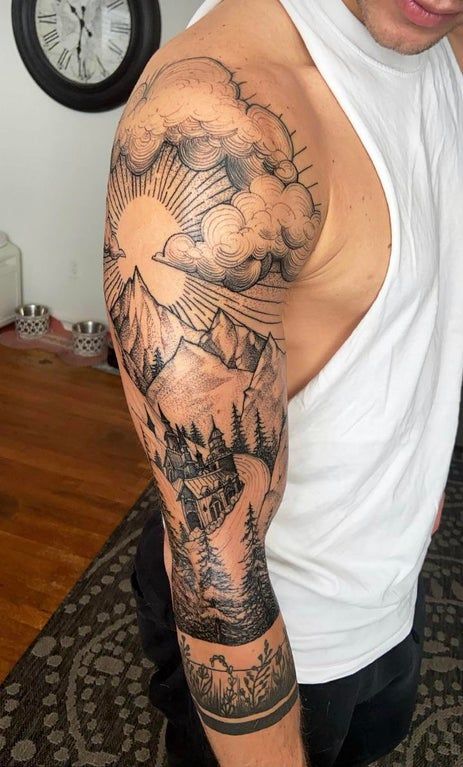 Surrealistic Leg Art
Surrealism meets ink in this striking leg tattoo where celestial objects, avian creatures, and architectural wonders converge in a dreamlike composition. This sleeve is a canvas of curiosity, encouraging onlookers to ponder the stories hidden within each symbol. For the individualistic man, this tattoo is a badge of his creative spirit. Pair with shorts or rolled-up denim to give this masterpiece the attention it deserves.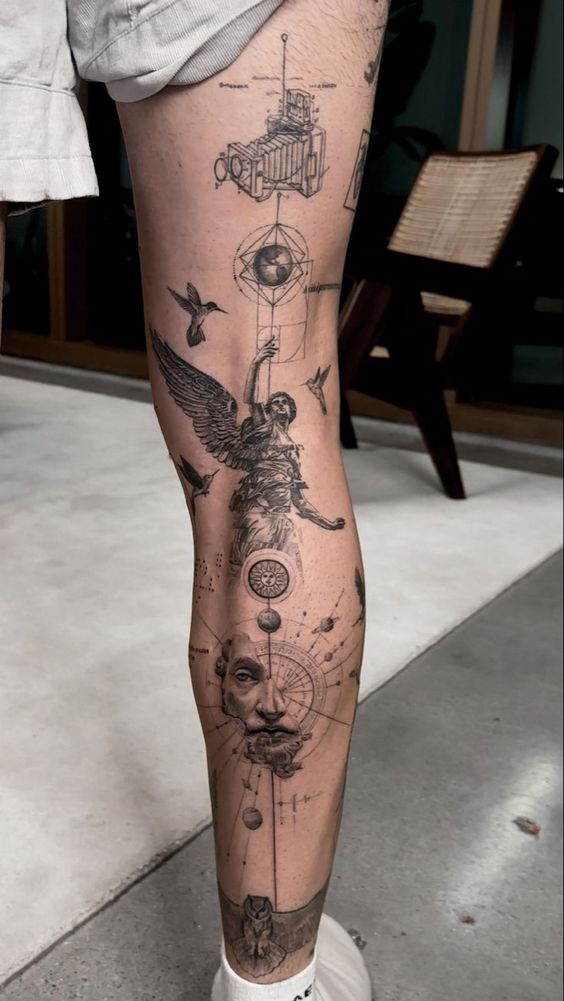 The Majestic Blend of Nature and Mythology
Immersing into the wild's heart, a tattoo unfolds that depicts a magnificent lion's head, seamlessly fused with a serene female portrait, and a curious monkey perched atop. This piece is a striking conversation starter, embodying strength, grace, and the primal instinct. It's a unique design that wraps around the leg, offering a narrative that balances the ferocity of the lion with the calmness of the woman's face. The placement is perfect for those who prefer larger, more elaborate pieces that tell a story at a glance.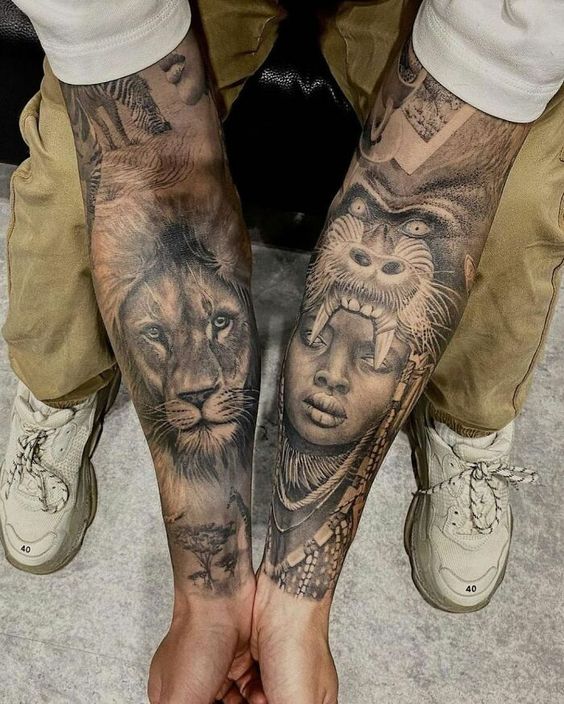 The Serenity of Eastern Inspiration
Channeling tranquility and enlightenment, an arm sleeve tattoo showcases an intricate Buddha, enveloped by a floral pattern that speaks volumes about the wearer's search for peace and wisdom. The design features soft shading and a mindful arrangement of symbols that encourage introspection and calmness. It's an idea arm piece for the contemplative soul, reflecting a journey towards inner peace and a connection with the divine.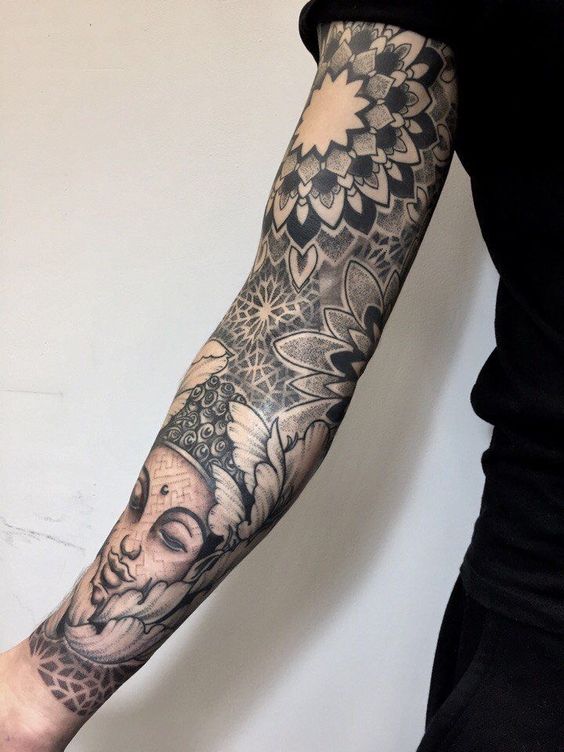 The Bold Fusion of Heritage and Mortality
Boldly etched onto the skin, this tattoo features a skull wearing a Native American headdress, offering a stark reminder of the inevitability of life's end while paying homage to the rich heritage and history of indigenous cultures. It's a powerful statement piece, situated on the forearm, ideal for those who carry history's weight and life's fleeting nature with them. The detailed feathers and skull's hollow eyes could serve as a symbol of respect for traditions and the cycles of life and death.